Ants: Carpenter ants are capable of causing just as much damage as termites if given the chance, but they simply chew up your home and spit it out to create their own little apartments. Although they're drawn to damp, decomposing wood like you'd find in nearby wooded areas, they'll readily settle for a leaky basement or attic. During their remodeling efforts, they actually leave your home's framework more vulnerable to decay. Other ant species are less inclined to be destructive, but they're certainly disruptive. Most simply help themselves to every food and water supply they can find in your home, but a few make late night trips through the kitchen or to the bathroom a bit treacherous. When it comes to ants, effective pest control in Utah involves eliminating all members of the invading colony to be sure they don't just call in reinforcements and carry on about their business.
Fleas: A single romp through the back yard or close encounter with another animal is all it takes for a dog or cat to bring fleas into your home. Once they're inside, hosting a dinner party takes on a whole new meaning. In short, you become the meal. One flea can lay as many as 1,200 eggs in a month, each hatching and growing into adulthood to continue the cycle in a matter of a few weeks. Over-the-counter pesticides may kill all the adults coming in contact with it, but larvae nestling safely inside their cocoons intuitively remain hidden until conditions are once again safe. Our Utah pest control services cover treating your home for adult fleas as well as those in other stages of life.
Spiders: It's safe to say not a single home is completely free of an eight-legged stowaway. Even if you haven't seen one cowering in the corner of a cabinet or clinging to the ceiling of your garage, you can be assured they're there somewhere. Seeing your cat scurrying across the dining room in pursuit of a single common house spider isn't reason enough to book our Utah pest control services, but if this becomes a routine event, you may want enlist our help. While most of the varieties of spiders found in our state are harmless aside from eliciting revulsion, some can make your home a dangerous place to live. Brown Recluse bites cause skin deterioration and Black Widows can be deadly.
Bees: Utah is known as the Beehive State in a purely metaphorical sense, but its literal namesakes are here in abundance. Yellow Jackets and Wasps usually only venture indoors by accident. Their true intentions are to provide unsolicited contracting services, building additions onto homes without obtaining the proper permits. They're notorious for moving into eaves, crawlspaces and even behind vinyl siding, essentially transforming your home into their own personal airports. Anyone who enters or exits the premises could be subject to their security measures. In some cases, the only pest control services in Utah necessary are pesticides; other times, the entire hive needs to be removed.
Rodents: If you have a rodent in your home, it's probably a typical house mouse. All they need is about a quarter inch of leeway to gain access to everything you own. They'll gnaw holes in your walls, teach you the importance of having digital backups of all your family photos and feast on everything from cereal and fresh fruit to cookies and pet food. Any rations they kindly leave for your family are likely to be contaminated since mice are known carriers of diseases, bacteria and the previously-mentioned fleas. To show appreciation for your hospitality, they'll chew the protective covering off wiring and potentially burn down your house.
These are only a few of the typical offenders you may face here. We've seen homeowners fed up with sharing their sleeping quarters with nearly microscopic bed bugs. Our expert Utah pest control team has met with people ready to move into a motel and leave their homes to the massive Norway Rat. Whether you're dealing with furry infiltrators or battling trespassers with far more legs than any one roommate should have, Beeline Pest Control is here to help reclaim your home.
How We Help
First of all, our job is to make your home uninviting and inaccessible to invaders while keeping it safe for your family. We only use odorless treatments guaranteed safe for use around people and pets. Secondly, we're dedicated to serving our purpose to the fullest extent. Our Utah pest control products are the most effective on the market, and our services include proactive measures to reduce the likelihood of an invasion, extermination of current intruders and prevention of future infestations. Our expert team is also well aware not all needs are exactly the same when it comes to pest control in Utah, so we offer three different categories of services.
One-Time Treatments
If a specific type of pest has decided to take up residence with you, or if one breed of uninvited guest seems to have brought others along for the stay, we'll come out and take care of the problem. This may also be an effective Utah pest control option when you see a growing number of gatecrashers roaming around your property but they have yet to infiltrate your home. We'll get rid of any unwanted tenants or spectators hoping to move in soon.
Quarterly Maintenance Program
Pests in our state have no sense of boundaries. When the weather takes a turn for the worse, they don't die out or head south for greener pastures. Instead, they become more vigilant in their efforts to bunk with people in nearby neighborhoods. Our Quarterly Maintenance Program includes:
Treatments for all types of pests once every three months
Extermination of mice, should they decide to show up in addition to other pests, with a 90-day effectiveness guarantee
Free visits in between regularly scheduled treatments if they become necessary
With our Quarterly Maintenance Program, you receive all-inclusive Utah pest control services targeting any nuisance in or around your home. We'll help protect your family and belongings all year long. As always, we'll use nothing less than the safest top-of-the-line tactics and treatments to keep pests at bay.
Termite Control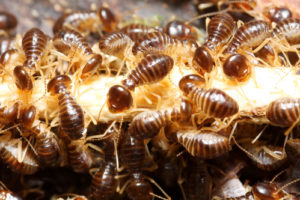 Since termites are among the most common and destructive forces at work in the communities we serve, we offer pest control services in Utah geared specifically toward this issue. We begin with a free assessment of your property to determine whether termites lie at the heart of your problem and the extent to which they've taken hold. From there, we eliminate all members of the colony snacking on your home, including eggs, and put treatments in place to keep them from returning. We guarantee the effectiveness of our services for 15 years; if termites happen to return during this time, we'll provide further treatments at no cost to you.
Visitors to your home should only be allowed inside at your discretion, but some choose to forgo common courtesy. At Beeline Pest Control, we're a licensed and insured authority in the field of pest control in Utah bringing you the benefit of our training and experience. Call us at (801) 204-9134 or fill out the form we've provided here on our website to learn more about how we can help you evict your inhuman tenants and make  sure they don't get a chance to retaliate.
We provide expert pest control services in several areas in Utah, including Provo, Salt Lake City, Ogden, Orem, Sandy, and South Jordan, among others. To learn more about our services, visit our Contact Us page and fill out the form or call us at 801-204-9134.